Rubber flooring

Rubber is one of the most durable, impact-resistant, anti-slip and universal floor coverings on the market. We have a wide selection of rubber floor coverings. Rubber flooring can be of different shapes. We offer a protective coating in the form of rubber flooring rolls, rubber floor tiles and a standard rubber mat. No matter what kind of rubber flooring you choose, they are all easy to install.





Rubber floor mats are great option for those who need a rubber flooring. These rubber mats are portable, making them ideal as a temporary or permanent rubber flooring solution. Our rubber floor coverings can also be used as floor mats, dog carpets, kitchen mats and much more.
Our floorings for playgrounds, gyms and garages are excellent examples of how rubber floor tiles and mats can withstand physical damage and cope with heavy weight.
Heavy duty rubber mats are suitable for physically abrasive applications, as they contain resilient rubber material at an affordable price. One of the characteristics of rubber, thanks to which it stands out, is its elasticity. Regardless of how hard or thick a heavy duty rubber mat can be, it will always have some degree of elasticity that is unmatched to typical floors in industrial environments such as tile, concrete, asphalt and hardwood floors.




Reasons to buy a rubber flooring
Protection: Rubber is an excellent material that provides floor flexibility due to its unique physical properties. For example, the rubber floor covering can prevent physical damage to existing floors.
Sealing: Most rubber floor coverings are almost impervious to water penetration. If you want to strengthen it and make it completely immune to liquids, you can seal the floor after installation. It covers the material with an invisible chemical layer that acts as a barrier to water and stains. Rubber surfaces also help protect against moisture. Although this is often ignored as a potential source of danger, water can cause serious and costly damage.
Soft surface: Rubber is an extremely safe floor covering material that is used in many active environments such as gyms and playgrounds. Rubber flooring also has excellent shock absorbency and shielding qualities.
Different textures available: When making a rubber flooring, it can be customized and designed in such a way to get different textures. It can be ideally suited for increasing the traction of the the floor.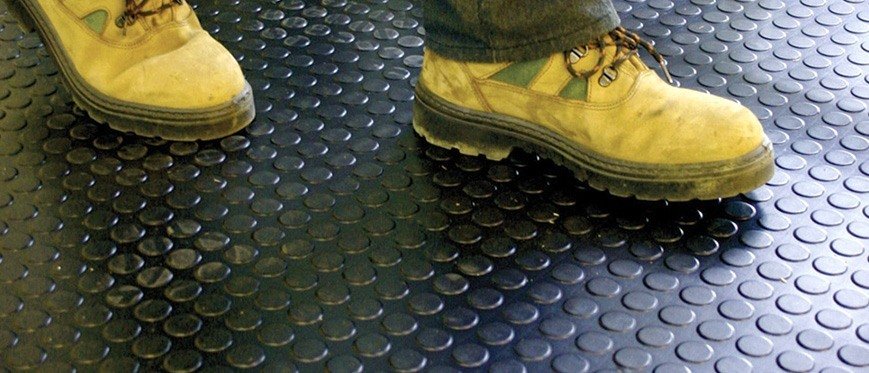 Important note: While rubber is rugged, durable, and able to shrug off most staining agents, the following substances can cause irreparable damage to the floor surface:
Any type of Oil
Acidic substances
Acetone-based cleansers
Products containing turpentine
For more information and offer, please contact us.