Dry Cryogenic Coupling (LNG coupling)
Dry Cryogenic Coupling (LNG coupling)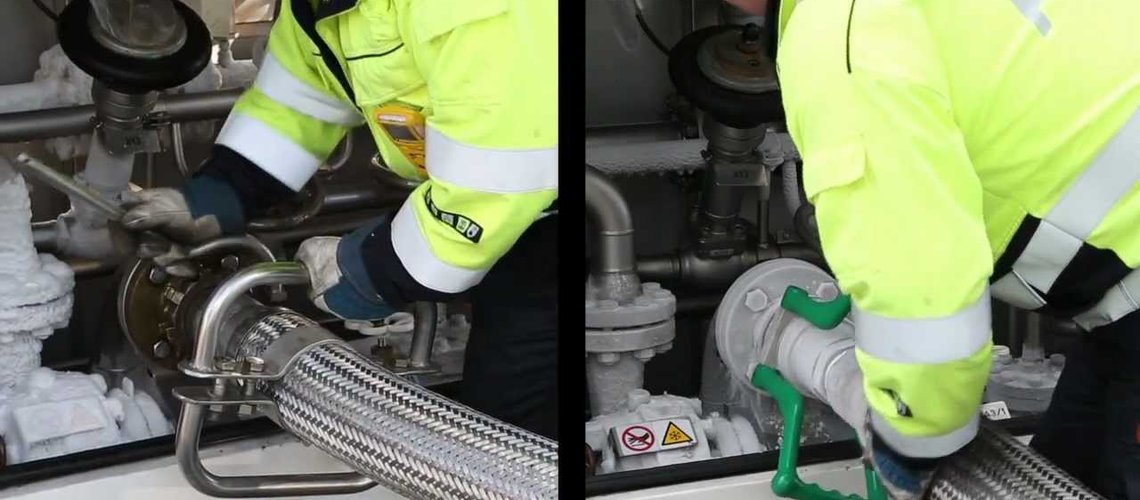 LNG Couplings - Dry Cryogenic Couplings
The Dry Cryogenic Coupling (LNG coupling) consist of a "tank" unit wich is a type of a non-return valve and a "hose" unit with a valve driven by an internal cam curve to open both valves at the same time. Operation is a single action using a straight forward turning motion to connect the couplings and open flow path. An initial push and turn action on the hose unit provides engagement with the tank unit, thus locking and sealing the two units together. Further rotation opening the internal valves, thereby allowing full flow with a minimum of pressure drop.
A selectivity (code) system allows the system to be used to a wide range of cryogenic liquefied gases without any risk of failure owing to "human error".
Advantages with Dry Cryogenic Couplings, MannTek LNG Couplings:
Easy to handle
Push and turn - free flow.
Turn and pull - closed.
Safe
The valve cannot be opened until the unit is coupled and closes automatically when disconnecting.
Environmentally friendly
Accidental spillage eliminated.
Reliability
No loss or spillage of liquids at connection or disconnection.
Technical information for Dry Cryogenic Couplings
Coupling Sizes: 1" (DN25) to 8" (DN200)
Working pressure: MWP 25 Bar - 1" (DN25) to 4" (DN100) MWP 16 Bar - 6" (DN150) to 8" (DN200)
Working temperature: Lowest working temperature is -200 C
Materials: Stainless steel. Others on request.