Tehnology GORE seals

Division of seal technology of the company company Gore for more than 40 years, delivers advanced seals, gaskets and other sealing products of PTFE (PTFE, teflon) in standard and specialized designs for hermetic storage and transmission of liquids and gases.
Products that will not leak!
With its unique combination of properties, GORE® expanded PTFE has virtually no disadvantages that are inherent in conventional seals made of fluoroplastic. The range of solutions includes contact pads for fragile, bent or misaligned flanges. In addition this enables the users to only need one sealing material for a wide range of technological pipeline systems.
Our gaskets are the most versatile on the market today.
The most reliable seal!
Sealing materials of Gore are among the most hermetic, most rugged and reliable chemical resistant seals. They withstand temperatures from -268˚C to + 315˚C, making it ideal for high-temperature and cryogenic applications. Moreover, they resist even the most aggressive chemical environments. Provides sealing even under low preload force, cancel the deviation of the flanges, exhibit dimensional stability, resistance to creep and cold flow and extreme resistance to extrusion. Responding to the diverse requirements of materials for industrial pipelines, Gore seals will be the perfect solution for reducing the total cost of the containment system. They solve the special problems of sealing and enables you to need just one sealing material for steel, enamel and fiberglass flanges, where you can also apply the metallic seal.
AREAS OF USE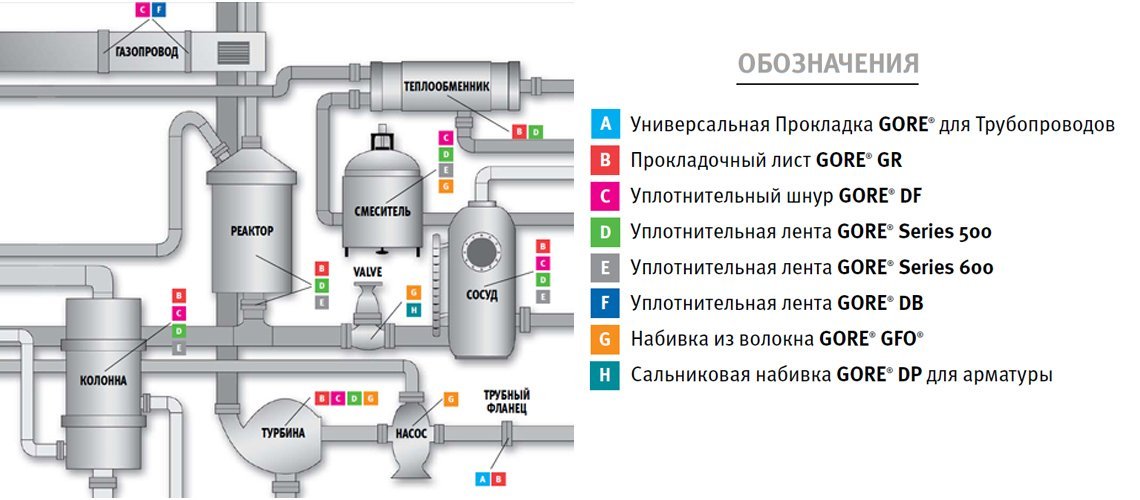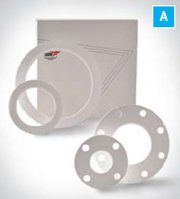 (A) GORE® Universal Gasket for piping (Style 800)
Universal gasket for all standard flanges on the process piping in chemical enterprises. It takes into account the specifics of various materials of pipe fittings - perfectly suited for steel, enamel and fiberglass flanges. Among its distinctive features - a long service life, reducing the total cost of the containment system and simplifying the nomenclature of stocks, and elimination of errors associated with incorrect choice of seals.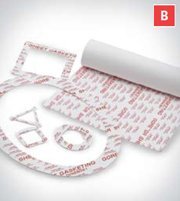 (B) Gasket sheet GORE® GR
As unsurpassed reliability of the seal, this unique product is best suited for sealing steel flanges of pipes and equipment with a variety of corrosive media. To get all the benefits of PTFE seals no longer have to put up with the creep and cold flow. And resistance to high temperatures and break the product is superior to any other sheet gasket based on fluoropolymer. Being extremely malleable, molding forms a very reliable sealing layer ensuring perfect seal, even on uneven flanges.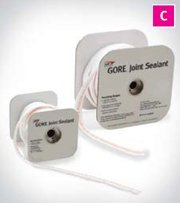 (C) Sealing cord GORE® DF
This original packing material, molding directly on the flange, is a versatile and cost-effective alternative to sheet gasket flanges for large equipment. It is perfect for sealing flanges complex shapes, fills fine uneven or damaged seating surfaces. Setting the seal is not difficult: simply peel off the protective paper, apply the material to the surface and turn off the ends overlapping - very reliable sealing is ready.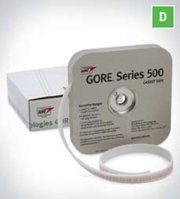 (D) Sealing Tape GORE® Series 500
It saves time and money by eliminating the worries. The PTFE tape seals large diameter steel pipes and equipment flanges. Have improved resistance to relaxation, it takes the form of thick pads, long-term sustainability to all processes. Unlike traditional bulky pads, the tape quickly adjusts to the desired shape, eliminating the need to manufacture, transport and install large gaskets.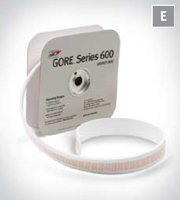 (E) Sealing Tape GORE® Series 600
Formability seal for glass-lined equipment. Unlike in gaskets polytetrafluorethylene sheath, it does not collapse under the influence of chemicals, providing tightness and durability of the connection. Since the seal consists solely of expanded PTFE with fibrous structure oriented in many directions , it is completely chemically inert. It adapts to uneven profile enamelled flanges, without losing dimensional stability. In addition, the installation of the seal is simple, quick and cost-effective.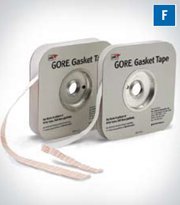 (F) Sealing Tape GORE® DB
This versatile, Thin sealing material, molding directly on the flange, available in the form of tape with adhesive across the entire width for smooth, flat, rectangular or narrow sealing surfaces. The material is compressed to a very thin profile, while still providing effective sealing even at the minimum compression. Due to the ease of installation, it is ideal for equipment with tight tolerances.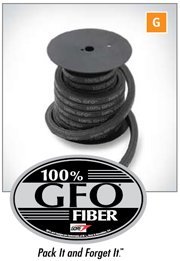 (G) Gasket GORE® GFO®


Proven high efficiency!
Packings consisting of fiber 100% GORE® GFO® are highly reliable seals for general purpose wide range of applications. Unlike other packs of yarn from prografichennogo fluoroplastic (PTFE), have a 30-year history of trouble-free use, providing an unparalleled level of reliability. Operation packing GFO® highly effective thanks to the reliability and long service life. Typical applications include sealing gaskets shaft speed pumps, mixers, units and all other equipment with rotating or reciprocating motion of the shaft. Gland packing GORE® GFO® becomes hard and brittle, reducing wear on the shaft. Furthermore, its excellent lubricity and high thermal conductivity allows continuous operation without overheating at speeds up to 21.8 m / s. Easy to assemble and disassemble, pack GFO® are temperature and chemical resistance in a wide range of operating conditions.
The only program "Legally conviction" packings
On market access to many options packings prografichennogo fluoroplastic (PTFE). As they look similar, but they are often made of inappropriate materials of inferior quality. Installation of such products can lead to premature failure of the packing, the loss of time and money. The "Stamp conviction" packs aimed to solve this problem. It ensures that in the process of weaving each thread is the thread used in GORE®. To confirm this, GORE checks packs located on the market. Look for "100% GFO®» packing for the most - it's the only way printing is designated! This is your only insurance that works and fulfils expectations.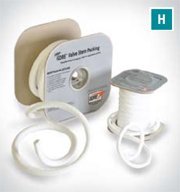 (H) Gland packing for valves GORE® DP
Supple self-lubricating packing material, which excludes depreciation and stock characterized by high durability. This padding string is easy to install without cutting and molding rings and forms a monolithic cylinder compression.
For more information and offer, please contact us.